Custom Search
20090419
Sunday Afternoon at Blimpuburger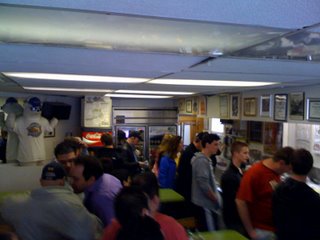 I really enjoy stopping by Blimpyburger for lunch when I'm in the
area, but often during the school year the line is too long.
Well, this is Sunday at 2:00 and I thought I might be able to slip in
and get a quick bite.
No such luck, about 22 people were in line when I walked in!
I guess that's OK, Blimpyburger is always good!
Subscribe to Posts [Atom]