Custom Search
20080430
The article I've linked to above is from the Michigan Daily from last year. But, it has the best description I've seen about the new North Campus Apartment project that will put almost 900 new bedrooms into the rental mix.
This will have a cooling effect on property values on the North side for a while, till the demand catches up to the new supply.
The new complex is called The Courtyards and it the developers hope to have rooms available soon.
Labels: ann arbor rental investment
20080429
This just in...
For the next week or so the Maple/Dexter intersection is going to be a mess because of construction.
Laura Fisher has post on her blog that gives a day-by-day update.
Just click the link above.
Labels: ann arbor west side traffic conditions
20080418
Since this area has been labeled a "declining market" buy the secondary market investors, it has become much more difficult for a buyer to purchase a home with zero down payment. It has also become more expensive for buyers to purchase with a 5% or 10% down payment.
Here is a blog that shares insights from nationally recognized expert Dawn Davis from Rate One Mortgage on the issue:
Declining Market Insights
Labels: Ann Arbor Mortgages low downpayment
20080414
Skeleton in the corner
So I was out evaluating property with a couple last week and we walked into a "vacant" home, turned around, and saw this in the corner: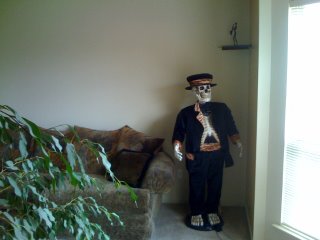 I was startled, and the wife was startled. Not a great way to display your home.
Labels: ann arbor real estate
20080408
Gee, I wonder why the listing agent didn't include this picture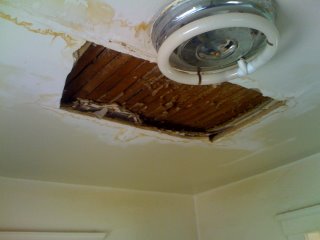 I was out evaluating homes last week with a relocating couple and we ran across a home on the market with this kitchen ceiling.
The listing office and the seller must have been aware of it because the plaster that would have fallen to the floor was cleaned up.
Kind of funny...
Labels: Ann Arbor property search
Subscribe to Posts [Atom]