Custom Search
20070330
Since Pfizer made their announcement we have been discussing the huge impact on market values in the Ann Arbor area.
On previous posts on one of our other blog sites we guessed 5 to 15% drop in values on the Northeast side.
Looks like for today that 15% is the number.
Check our other blog, link above or: http://annarbormichiganrealestate.com for more discussion.
Labels: Ann Arbor Real Estate values, pfizer
20070327
What areas of Michigan have Exclusive Buyer's Agents?
It seems like I hear this question about once a week, usually after someone has read an article of book on home buying and heard about naeba.org.
So hopefully this will help.
Our office, based in Ann Arbor Michigan, serves Washtenaw County, Western Wayne County, Western Oakland County, Livingston County, the far East side of Jackson County, NorthEast Lenawee County, and the Northwest end of Monroe County.
If you are not from the area and you don't recognize the county names, I'll list most of the cities and towns: Ann Arbor, Ypsilanti, Dexter, Saline, Whitmore Lake, Milan, Clinton, Tecumseh, Hamburg, Pinkney, Howell, Brighton, South Lyon, Canton, Novi, Northville, Plymouth, Bellville, and Willow Run.
Now, there are other offices like ours (Exclusive Buyer's Agencies) in Grand Rapids, Kalamazoo, Macomb Township, Troy, Flint, and Petosky. If you want us to connect you with someone in one of the other areas you can call our office at 734-662-6240.
Labels: Ann Arbor exclusive buyer agents
20070325
Creepy things when looking at homes
Last week we were helping a Ann Arbor couple evaluate the possibility of selling their home in town and moving to the country where they could have horses. That is plenty of horses with plenty of land.
Unfortunately at any given price range the homes with the most land have the least home. Or the least desirable home.
In looking at a home West of Chelsea I unlocked the 100+ year old farm house to find it vacant. Along with the smell of an oil furnace there were some cobwebs and some dust. As we went through different rooms we found a small bedroom in the back. As we walked in we heard a scraping & scratching sound in the outside wall.
I'm not faint of heart, but that kind of thing still gives me the creeps.
I'm sure it was just a squirrel, (too much sound to be a mouse) but hearing that kind of thing in the wall right next to you is still creepy!
The other creepy thing I ran into last week was a vacant luxury home that had a basement floor covered with dead pillbugs. When I say covered I'm not kidding, there was almost no place to put your foot without stepping on the dried bodies and hearing a crunch. To make matters worse one of the buyers I was taking through the home had gotten some mud on their shows and so removed his shoes at the door. He was crunching these things in his stocking fee.
And remember this was a luxury home which we define as having an asking price over about $500,000.
Labels: Creepy Ann Arbor real estate and houses for sale
20070317
The nation's top buyer's agents meet
If you've been reading along you know I'm the President of the standard setting organization for buyer's agents, NAEBA.
Normally we meet at a convention once a year and the Board of Directors of NAEBA meet for a planning session a month or so later.
Here is a photo from our planning meeting in January. I'm the one in the back on the right side in the blue shirt and dark sportcoat.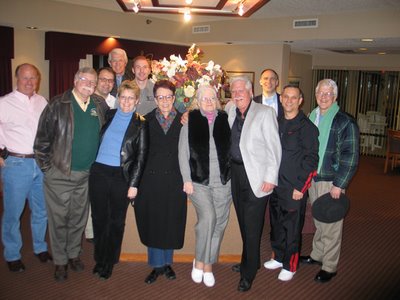 20070313
We heard this last week that the REALTOR.com web site will start showing addresses in May.
Our property search sites already show addresses and sales status for Ann Arbor area homes.
I don't know why they decided to change.
Labels: Ann Arbor property search, realtor
Interesting article on one of the other Ann Arbor Real Estate & Home Buying blogs.
I've often felt that homes can be too big. (There is one 8,000 square foot home on the market right now that has been sitting vacant for about 2 years. It just feels too big.)
I know the way my family uses a house I don't want the kids to go to their rooms all the time, I want them in the family areas. (They will grow up too soon anyway but that is another story.)
This article has more info.
Labels: Ann Arbor Real Estate New Construction Home Size
20070307
Just was sent this by a home buyer that really got taken advantage of buy a woman who said she was his buyer's agent and seemed to act like his buyer's agent, all the way up to the point that he was signing purchase agreement papers. At that point she slipped in a selling agent disclosure. Then the buyer learned that the house was listed by the agent's supervisor.
In any case it is a very unhappy situation.
They guy was saying if he had only read this before he started looking at homes.
Labels: designated agency, dual agency
20070306
If you thought we were the only real estate company who doesn't think much of broker
kickbacks
and "
Affiliated
Business
Arrangements
" (
ABAs
) here is a great real estate blog from Virginia who feels the same way.
They even promise not to subject their clients to dual agency!
Subscribe to Posts [Atom]